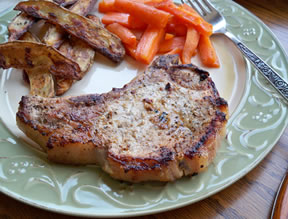 Directions
Preheat the grill for 15 minutes.
Combine the onion powder, garlic powder, celery salt, and thyme together; sprinkle over pork chops.
Place pork chops on the grill; salt and pepper to taste.
Grill for 4 to 5 minutes or until lightly charred on one side. Turn over and cook another 4 minutes or until barely pink in center when cut open. Do not overcook.
Remove from grill and allow to stand for 5 minutes before serving.
Prep Time: 5 minutes
Cook Time: 10 minutes
Servings: 4


Ingredients
-
4 pork chops (any type)
-
1/4 teaspoon onion powder
-
1/4 teaspoon garlic powder
-
1/4 teaspoon celery salt
-
1/8 teaspoon thyme
-
Salt and pepper to taset