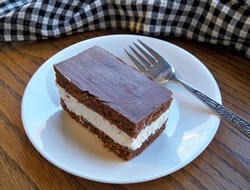 Directions
Preheat the oven to 350 degrees F. Grease one baking sheet and line the other with waxed paper.
Cream the eggs, sugar and oil together in a large mixing bowl.
Add the salt, baking soda, cocoa, apple sauce, and flour. Beat until well mixed.
Pour batter into the two cookie sheets, divide evenly between the two.
Bake in preheated oven for 20 minutes.
FILLING:
Beat all the ingredients together until smooth and fluffy.
Spread the filling evenly on the layer of brownies without the waxed paper.
Lift the second brownie from the cookie sheet using the waxed paper, carefully flip it over and place it on top of the filling layer.
Press this layer down slightly so that the filling spreads out to the edges.
TOPPING:
Melt the butter, remove from the heat, and add the chocolate chips. Stir until chips are all melted.
Spread topping evenly over the top of the layered brownies.
Chill the brownies in the refrigerator; cut into 2 x 3 bars (can cut smaller if desired).
Prep Time: 1 hour
Cook Time: 20 minutes
Container: Two 10 x 15 baking sheet.
Servings: 25
Serving Size: 1


Ingredients
-
2 eggs
-
1/2 cup vegetable oil or canola oil
-
1 1/2 cups sugar
-
1 teaspoon baking soda
-
1/4 teaspoon salt
-
1/2 cup cocoa powder
-
2 cups flour
-
2 cups applesauce
-
FILLING:
-
2 Cool Whip - 8 oz. containers
-
8 ounces Cream Cheese
-
1 1/2 cups powdered sugar
-
TOPPING:
-
5 tablespoons butter
-
1 package milk chocolate chips