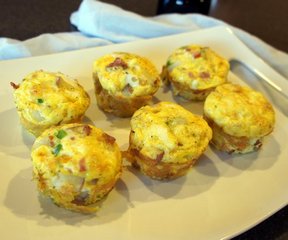 Directions
Place diced potatoes on a plate and cover with saran wrap, or in a microwave safe dish. Place in microwave for 5 minutes and set aside to cool slightly.

Preheat oven to 375°. Spray 12 muffin cups with cooking spray.

Heat a medium nonstick skillet over medium heat. Coat pan with cooking spray. Sauté onions, peppers and garlic for 5 minutes or until tender; remove from heat. Stir in potato, cheese and bacon.

Beat eggs. Season with salt and pepper. Spoon vegetable mixture evenly into prepared pan. Pour egg mixture evenly over vegetable mixture.

Bake at 375° for 18 minutes or until set.
Prep Time: 15 minutes
Cook Time: 20 minutes
Servings: 12


Ingredients
-
3 small red potatoes, diced
-
1/4 cup green onions, sliced
-
1/4 cup red bell pepper, diced
-
2 cloves garlic, minced
-
2 ounces shredded Cheddar cheese
-
2 slices bacon, cooked, crumbled
-
9 eggs
-
salt and pepper, to taste