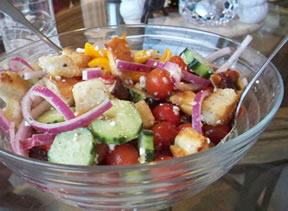 Directions
Heat 3 tablespoons of olive oil in a large skillet. Add the cubed bread, sprinkle lightly with salt, and cook over medium-low to medium heat until nicely browned (5 to 10 minutes), tossing frequently. If needed, add more oil while browning.
In a large bowl, combine the peppers, cucumber, tomates, and onion. Toss gently to combine.
Combine all the vinaigrette ingredients, except for the olive oil, in a bowl and whisk together.
While continuing to whisk, add the olive oil; whisk until the oil is mixing in completely.
Pour the vinaigrette over the vegetables. Add the cheese, olives, and bread crumbs; toss gently until everything is lightly coated with the vinaigrette.
Allow the salad to set at room temperature for 30 minutes before serving, allowing flavors to blend together.
Serve at room temperature.
Prep Time: 45 minutes
Cook Time: 15 minutes
Servings: 6


Ingredients
-
3 tablespoons olive oil (may need extra)
-
1 loaf French bread - cut into 1-inch cubes (approx. 6 cups)
-
Kosher salt
-
1 red bell pepper
-
1 yellow bell pepper
-
1 cucumber - seeded, cut in 1/4-inch slices (do not peel)
-
1 pint cherry tomatoes (or grape tomatoes)
-
1/2 red onion - sliced thin
-
8 ounces feta cheese - cut into 1/2-inch cubes
-
1/2 cup kalamata olives - pitted
-
VINAIGRETTE:
-
2 cloves garlic - minced
-
1 teaspoon dried oregano
-
1/2 teaspoon Dijon mustard
-
1/4 cup red wine vinegar
-
1 teaspoon salt
-
1/2 teaspoon black pepper - fresh ground
-
1/2 cup olive oil