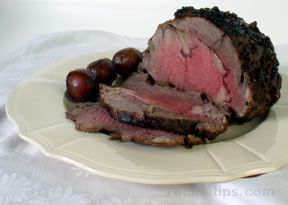 Directions
Preheat oven to 425°F.
Blend together cracked pepper, dried oregano, salt, and minced garlic in a small bowl and rub on outside of roast. Pierce the roast with a sharp knife 4-5 times and place slivers of sliced fresh garlic in the slits.
Place the meat in a roasting pan and place in the hot oven for 10 minutes Then turn down to 300° and roast 30 minutes per pound. Use a meat thermometer to check doneness. 160° is considered medium well done.
Remove from oven. Slice and serve while warm.
Prep Time: 15 minutes
Cook Time: 2 hours
Container: heavy dutch oven or roasting pan.
Servings: 4
Serving Size: 2 pieces


Ingredients
-
3 pounds rib-eye roast
-
1 tablespoon freshly ground black pepper, adjust to taste
-
1/2 teaspoon ground oregano
-
1 teaspoon salt
-
4 cloves fresh garlic, minced (reserved 1 for slicing)