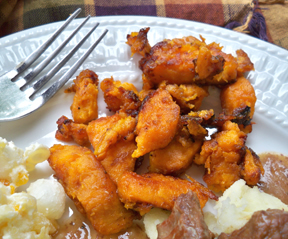 Directions
Peel sweet potatoes, cut into quarters or a little smaller if potato is large. Place in a saucepan and cover with water. Boil just until the potatoes begin to soften.
Drain water and cut potatoes into thick slices.
Heat the butter in a large skillet. When butter is hot, add the sweet potatoes. You should use a pan large enough so the potatoes are not piled on top of each other too much.
Fry the potatoes in the butter over medium-high heat until they begin to brown. If necessary you can add a little more butter as you are frying them. Salt and pepper the potatoes to taste if desired.
Once they begin to brown, reduce the heat to medium-low or medium and sprinkle the brown sugar over the potatoes. Continue to fry until the potatoes are tender and glazed.
Serve immediately.
Prep Time: 30 minutes
Cook Time: 15 minutes
Container: Skillet
Servings: 4


Ingredients
-
3 sweet potatoes - large
-
3 tablespoons butter
-
3 teaspoons brown sugar