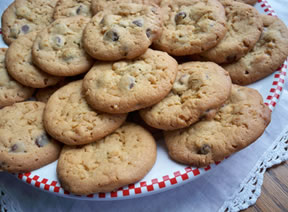 Directions
Preheat the oven to 350 degrees F.
Cream the shortening, sugar, brown sugar, and eggs together in a mixing bowl until light and fluffy.
Add flour, soda, salt, and vanilla; beat until evenly mixed.
Add the Rice Krispies and chocolate chips. Mix just enough to distribute evenly. If dough is too stiff to mix with the mixer, stir in by hand.
Roll into about 1-inch balls and place on a cookie sheet about 2 inches apart. Or if you have a small scoop you can just drop a small scoop of dough on the cookies sheet rather than roll into a ball.
Bake for 10 to 12 minutes or until nicely browned.
Before removing cookie sheet from the oven, lift up and allow it to drop back down on the oven rack. This will cause the cookies to fall slightly. Then remove from cookie sheet and cool on a wire rack. Enjoy!
Prep Time: 45 minutes
Cook Time: 1.5 hours
Servings: 60


Ingredients
-
1 cup shortening
-
1/2 cup sugar
-
1/2 cup brown sugar
-
2 eggs
-
2 cups flour
-
1 teaspoon baking soda
-
1/4 teaspoon salt
-
1 teaspoon vanilla
-
1 cup Rice Krispies
-
1 cup chocolate chips - milk chocolate or semi-sweet