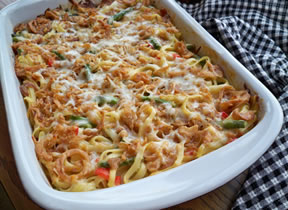 Directions
Break fettuccine in half or thirds and cook as directed on package; drain and set aside.
Prepare a 9 x 13 casserole dish by coating bottom and sides with butter or cooking spray; set aside.
Heat butter in a large skillet until hot. Add the red pepper and asparagus; saute until just crisp tender.
Add the Progresso Recipe Starter, cream, and garlic powder; stir together until well mixed.
Add in the fettuccine, half of the French fried onions, and half of the cheese to the skillet; stir together and then pour into the prepared casserole.
Sprinkle the top with the remaining French fried onions and cheese.
Cover with foil and bake for 40 minutes or until bubbling. Remove the foil and bake for an additional 10 to 15 minutes to brown the French fried onions.
Prep Time: 45 minutes
Cook Time: 1 hour
Servings: 12


Ingredients
-
1 pound fettuccine
-
2 tablespoons butter
-
1 red pepper - diced
-
1 bunch asparagus - cut into 1-inch pieces
-
1 can Progresso Creamy Parmesan Basil Recipe Starter
-
1/2 cup cream (or half & half)
-
1 tablespoon garlic powder
-
1 can French fried onions
-
2 cups shredded mozzarella cheese