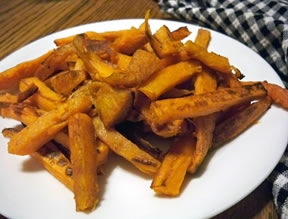 Directions
Wash the sweet potatoes (do not peel) and cut into pieces that are approximately 3 inches long. Slice lengthwise if the piece is fairly thick.
Place sweet potato sections into a saucepan and cover with water. Bring to a boil and boil about 10 minutes or just until they begin to soften slightly. Do not cook until tender.
Remove from heat and drain water. Allow to cool slightly and then remove the skins.
Preheat the oven to 400 degrees.
Cut each section into french fry-style sticks.
Use a large cookie sheet with sides and coat the bottom with a thick layer of cooking oil. Place the sweet potato sticks on the coated cookie sheet.
Mix the cinnamon and sugar; sprinkle evenly over the sweet potatoes. Sprinkle the cinnamon and sugar to your desired taste. You do not have to all of the mixture.
Place in the preheated oven and bake for 15 minutes. Remove from the oven and turn the sweet potatoes over.
Return to the oven and bake for an additional 15 to 20 minutes or until desired doneness. Baking time will depend on how crisp and browned you would like the sweet potato sticks to be.
Prep Time: 25 minutes
Cook Time: 35 minutes


Ingredients
-
4 sweet potatoes - medium
-
Cooking oil
-
4 teaspoons sugar
-
1/2 teaspoon cinnamon