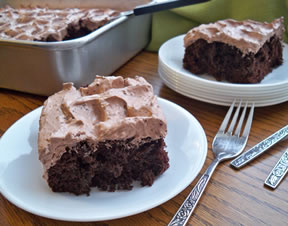 Directions
Preheat oven to 350 degrees F. Grease the bottom and sides of a 9 x 13 cake pan.
Beat the cake mix, pudding mix, water, and egg whites together; beat for 1 minute on low. Beat another 2 minutes on medium speed.
Pour into the prepared pan and bake in preheated oven for 15 minutes. Check doneness by poking the cake in the middle with a toothpick, it should come out clean when the cake is done.
Allow to cool completely before frosting.
FROSTING:
Pour the milk and almond extract in a bowl. Whisk in 1/3 of the pudding mix and allow to set for 1 minute; then whisk together until well mixed. Add the remaining pudding mix and whisk for 2 minutes.
Allow the pudding to stand for 15 minutes. After the pudding sits, fold in the whipped topping until evenly mixed into the pudding mix.
Spread the frosting evenly over the cooled cake. Store the cake in the refrigerator when not being served.
Prep Time: 15 minutes
Cook Time: 15 minutes
Container: 9 x 13 cake pan
Servings: 15


Ingredients
-
1 chocolate cake mix
-
1 package instant sugar-free chocolate pudding mix, small pkg.
-
3 egg whites
-
1 3/4 cups water
-
FROSTING:
-
1 1/4 cups milk, 1% or fat-free
-
1/4 teaspoon almond extract
-
1 instant sugar-free chocolate pudding mix, small pkg.
-
8 ounces whipped topping, lite