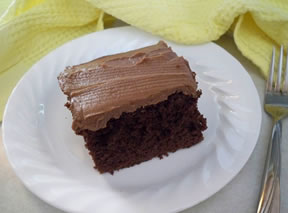 Directions
CAKE:
Preheat the oven to 350 degrees F. Grease a 9 x 13 cake pan.
Cream the sugar and shortening until light and fluffy. Add the eggs and beat until well mixed.
Add the cocoa, milk, baking soda, and flour; mix well.
Add the boiling water; beat just until well mixed. The batter will be thin.
Pour into the prepared cake pan and bake in preheated oven for 35 - 40 minutes or until a toothpick comes out clean when poked in the center of the cake.
Allow cake to cool completely before frosting.
FUDGE FROSTING:
Combine the sugar, cocoa, and salt in a saucepan; add the eggs and stir well.
Add the milk and vanilla; bring the mixture to a boil, stirring constantly. Don't use too high of heat and watch carefully because it scorches easily. Boil for 1 minute after it comes to a rolling boil.
Remove from the heat and beat until cool; spread on the cooled cake.
Prep Time: 45 minutes
Cook Time: 1 hour
Container: 9 x 13 cake pan
Servings: 15


Ingredients
-
CAKE:
-
2 cups sugar
-
1/2 cup shortening
-
2 eggs
-
1/2 cup cocoa powder
-
1 cup sour milk
-
2 teaspoons baking soda
-
2 cups flour
-
1 cup boiling water
-
FUDGE FROSTING:
-
2 cups sugar
-
6 tablespoons cocoa powder
-
dash salt
-
2 eggs, slightly beaten
-
6 tablespoons milk
-
1 teaspoon vanilla