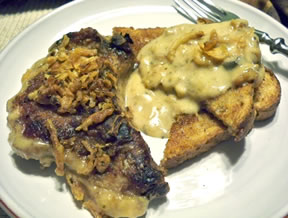 Directions
Trim excess fat from the pork chops. Combine the flour, salt, and pepper together in a shallow bowl.
Heat the oil in a large frying pan over medium-high heat, coat the pork chops on both sides with the flour mixture, and place in the pan with heated oil. Brown the pork chops on both sides.
Do not overcrowd chops in the pan when frying. Fry in batches. Remove from pan and set aside once they are browned.
Combine the rest of the ingredients in a bowl; only add half of the French-fried onions.
Pour the mixture into a large baking dish and spread out evenly.
Place pork chops on top of sauce in the baking dish.
Bake in an oven preheated to 350 degrees F. Bake covered for 25 minutes. Uncover and sprinkle the remaining French fried onions over the top and bake uncovered for another 10 minutes.
Serve pork chops alongside the gravy poured over toast, noodles, or mashed potatoes.
Prep Time: 20 minutes
Cook Time: 1 hour
Serving Size: 6


Ingredients
-
6 pork chops
-
3/4 cup flour
-
1/2 teaspoon salt
-
1/4 teaspoon pepper
-
2 tablespoons canola oil
-
1 can cream of mushroom soup
-
2/3 cup chicken broth
-
1/2 cup sour cream
-
1/2 teaspoon ground ginger
-
1 1/2 cups French fried onions
-
Toast, noodles, or mashed potatoes