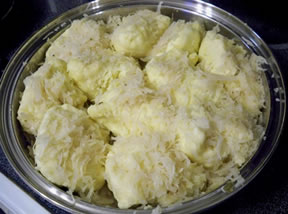 Directions
In a mixing bowl, lightly beat the eggs.
Add all other ingredients except for the sauerkraut; mix with a fork until all ingredients are combined. Dough should be stiff enough so a dumpling holds it shape fairly well when you drop it from a spoon. If the dumpling spreads too much add a little more flour.
Add the sauerkraut to a large skillet and heat it until bubbling.
Turn it down to a simmer and then drop the dumpling dough from a large spoon by pushing it off with your finger. Make the dumplings any size you desire. Just know that the dumplings will almost double in size when they are cooked.
Once all the dumplings are on the sauerkraut, cover the pan and cook at a simmer for 15 minutes. Turn the dumplings over, cover and simmer for an additional 10 to 15 minutes.
Serve the sauerkraut and dumplings together.
Prep Time: 15 minutes
Cook Time: 30 minutes
Container: Large skillet


Ingredients
-
3 eggs
-
1/2 cup milk
-
2 teaspoons baking powder
-
2 cups flour
-
1/2 teaspoon salt
-
1 jar sauerkraut -32 oz.