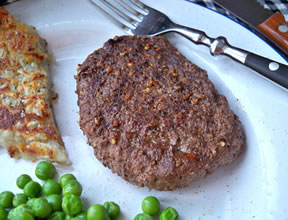 Directions
Divide the ground beef into 6 even portions. Form into 6 rectangle-shaped steaks.
Sprinkle on side with your favorite steak seasoning. Salt and pepper to taste.
Place on a preheated grill or in a preheated frying pan. Cook until nicely browned on one side. Flip over and cook on the other side until the steak is to your desired doneness.
Remove from the heat and serve with a side salad and a fresh vegetable for simple meal that is full of flavor.
Prep Time: 10 minutes
Cook Time: 10 minutes
Servings: 6


Ingredients
-
2 pounds ground beef
-
steak seasoning