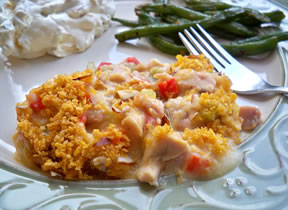 Directions
In a large bowl combine all the ingredients, except for the corn flakes, butter and almonds; stir until evenly mixed.
Preheat the oven to 375 degrees F. and grease a 2-quart baking dish.
Transfer the chicken mixture to the baking dish.
Crush the cornflakes and stir in the melted butter; mix thoroughly and add the almonds. Sprinkle cornflakes and almonds over the top of the casserole.
Place in a preheated oven uncovered and bake for 45 minutes or until bubbling. Allow to stand for 10 minutes before serving. This will let the sauce thicken a little before serving.
Prep Time: .75 hours
Cook Time: 45 minutes


Ingredients
-
3 cups diced cooked chicken (can use a rotisserie chicken to save time)
-
1 cup diced red bell pepper
-
1 cup sliced celery
-
1 cup mozzarella cheese
-
1 can cream of chicken soup
-
6 ounces plain yogurt
-
1/2 cup sour cream
-
1 tablespoon minced onion flakes
-
1 tablespoon lemon juice
-
1/4 teaspoon pepper
-
1/4 cup crushed corn flakes
-
1 tablespoon margarine
-
1/4 cup sliced almonds