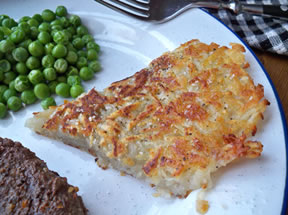 Directions
Peel and shred the potatoes. Pat dry with a paper towel.
Heat the butter and oil in the skillet over medium heat until sizzling. Add the potatoes and spread out into an even layer; press with spatula to pack down.
Sprinkle top with half of the salt and pepper. Allow potatoes to cook without stirring for 8 to 10 minutes or until the bottom side is brown and crispy.
Flip over by sliding out onto a plate, place another plate over it and flip it over onto the top plate. Then side the potato cake back into the skillet to finish cooking.
Sprinkle second side with remaining salt and pepper; sprinkle the parsley flakes over the top evenly.
Cook for 8 to 9 minutes or until the second side is crisp and nicely browned.
Remove from the heat and side the potato cake out onto a platter. Cut into wedges to serve.
Prep Time: 15 minutes
Cook Time: 20 minutes
Container: Non-stick skillet


Ingredients
-
2 tablespoons butter
-
2 tablespoons canola oil
-
2 potatoes - large
-
1/2 teaspoon salt
-
1/8 teaspoon pepper
-
1 tablespoon parsley flakes