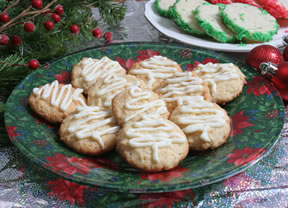 Directions
Preheat the oven to 375 degrees F.
Combine the cookie mix, egg, butter, coconut, 1/2 cup of white chocolate chips, and macadamia nuts in a large bowl. Stir until mixture is evenly mixed. The dough will be stiff.
Drop small scoopfuls (or tablespoons) of dough on a cookie sheet. Place cookies approximately 2 inches apart.
Bake for 10 to 12 minutes or until the edges of the cookies are lightly browned.
Remove from the oven and allow the cookies to set on the cookie sheet for a minute before removing. Place them on a wire rack to cool.
Melt the remaining 1/2 cup of white chocolate chips in the microwave, cooking in 20 to 30 second intervals; stirring after each until white chocolate is all melted. Watch it closely so it doesn't over cook.
Once melted place in a small sealable bag and clip one corner. Squeeze melted chocolate from the bag to drizzle over cookies. Drizzle in a pattern or as a random drizzling.
Allow time for the white chocolate to set on the cookies before storing them.
Prep Time: 1 hour
Cook Time: 45 minutes


Ingredients
-
1 package sugar cookie mix 17.5 oz. package
-
1 egg
-
1/2 cup butter - melted
-
3/4 cup coconut
-
1 cup white chocolate chips - divided
-
1/2 cup chopped macadamia nuts