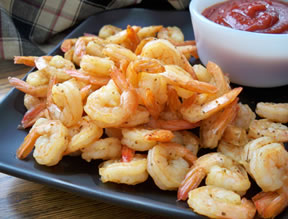 Directions
Combine water, beer, and seasoning in a saucepan. Heat to a boil and then add the shrimp.
Turn heat down to a simmer and cover; cook 2 or 3 minutes, just until fresh shrimp turns pink. If using precooked shrimp, just steam for 2 minutes.
Drain shrimp and serve immediately if serving warm. Otherwise allow shrimp to cool and then refrigerate until ready to serve.
Serve with favorite cocktail sauce.
Prep Time: 25 minutes
Cook Time: 5 minutes


Ingredients
-
1/2 cup water
-
1/2 cup beer
-
2 tablespoons Old Bay seasoning
-
1 pound shrimp - peel and devein, leave tails on (can use precooked shrimp)
-
Cocktail sauce