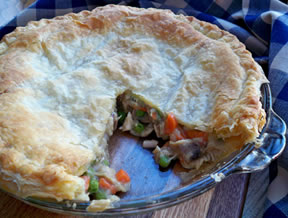 Directions
Preheat the oven to 400 degrees F.
Place one of the pastry sheets into the pie plate. Press evenly into the bottom and around the sides.
Heat up the oil in a skillet over medium-high heat. Saute the onions and garlic in the heated oil until tender.
Add the turkey, vegetables, and gravy; stir to mix all ingredients together. Cook until bubbling.
Pour the turkey mixture into pie plate.
Slightly moisten the top edge of the bottom crust. Place the second pastry sheet over the top and crimp the edges. Trim excess pastry from around the edges.
Place in the preheated oven and bake for 20 minutes or until the crust is golden brown.
Note: Chicken can be used instead of turkey and you can use most any type of vegetables. Also, frozen mixed vegetables could be used. If you don't have leftover gravy for this recipe you can use a 12 ounce jar of turkey or chicken gravy.
Prep Time: 45 minutes
Cook Time: 20 minutes
Container: 9-inch deep dish glass pie plate


Ingredients
-
1 package frozen puff pastry sheets (17.3 oz.)
-
1 tablespoon olive oil or other cooking oil
-
1 onion (medium) - minced
-
2 cloves garlic - minced
-
2 cups cubed turkey
-
1/2 cup frozen peas
-
1/2 cup sliced cooked carrots
-
1 1/2 cups turkey (or chicken) gravy - leftover or store bought