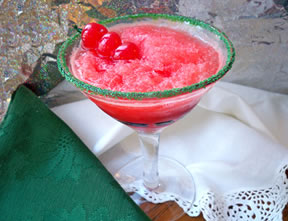 Directions
Combine the water and sugar in a saucepan and bring to a boil.
Remove the water and sugar mixture from the heat and add the Jell-O; stir until dissolved.
Pour into a large freezable container (a 5 quart plastic ice cream pail works well).
Add the Hawaiian Punch, lemon juice, and vodka; stir to mix. Place in the freezer.
When the mixture is frozen it is ready to serve. It should be soft enough to scrape and scoop into a glass. If it is hard to scoop, allow it to set out at room temperature for a couple of minutes before serving.
Add to a cocktail glass until it is 1/2 to 2/3 full of the frozen slush. Fill the remainder of the glass with Sprite. Stir to mix and serve.
Prep Time: 15 minutes
Container: Cocktail glasses


Ingredients
-
4 cups water
-
2 cups sugar
-
1 package Jell-O (6 oz.) - Cherry or Strawberry
-
6 cups red Hawaiian Punch (large can)
-
8 ounces lemon juice
-
2 cups vodka
-
Sprite (regular or diet)