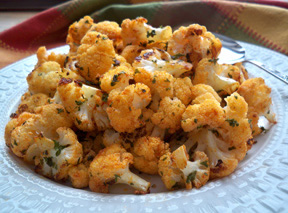 Directions
Preheat oven to 450 degrees F.
Break cauliflower into large bite-size pieces and place in a large bowl.
In a small bowl, combine the oil, paprika, and salt; drizzle over the cauliflower.
Toss thoroughly to coat the cauliflower as evenly as possible.
In a separate bowl, combine the minced garlic with the parsley flakes and set aside.
Spread cauliflower out on a 10 x 15 x 1 baking sheet and place in the preheated oven, uncovered.
Bake for 10 minutes and then remove from the oven and add the minced garlic and parsley flakes; stir into cauliflower to mix evenly.
Place back in the oven for an additional 10 to 15 minutes or until the cauliflower is crisp tender and lightly browned. Stir once or twice through the cooking time.
When cauliflower is done, remove from the oven and serve immediately.
Prep Time: 30 minutes
Cook Time: 25 minutes
Container: 10 x 15 x 1 baking sheet


Ingredients
-
1 head cauliflower - large
-
2 tablespoons olive oil
-
1 teaspoon paprika
-
1/4 teaspoon salt
-
3 cloves garlic - minced
-
2 tablespoons parsley flakes