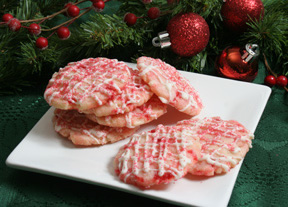 Directions
Preheat the oven to 325 degrees F.
Spread the chopped cherries out on paper towels to allow the juice to drain.
Chop 4 oz. of the almond bark into small chunks.
In a large bowl, whisk the flour and sugar together. Add the cold butter and cut in with a pastry blender until the mixture forms fine crumbs.
Stir in the chopped cherries and almond bark pieces until evenly distributed.
Add the almond extract and food coloring; stir into mixture. Don't worry about the food coloring getting all mixed evenly. The cookies will have a red and white swirled coloring to them when baked.
Form the dough into a big ball (or two smaller balls) with your hands.
Take a scoop of dough and make a ball approximately 3/4 to 1 inch in size. Place on the cookie sheet and then flatten with the bottom of a glass that has been dunked in white sugar.
Bake in preheated oven for 10 to 12 minutes. Cookies should be firm in the center.
Remove from the cooking sheet and place on a cooling rack. Once all the cookies are baked and cooled, lay them out on some waxed paper.
Place the remaining 4 oz. of almond bark and shortening in a small microwave safe bowl and cook in the microwave on high for 30 seconds. Take out and stir. If not all melted, return to the microwave and cook another 30 seconds.
Pour melted almond bark in a small sealable bag. Trim off just a small corner of the bag and drizzle the almond bark over the cookies.
After the almond bark has been drizzled over all the cookies allow them to set until it firms up. If using red sugar for decorating, sprinkle it over the cookies before the almond bark sets.
Store cookies in an air-tight container with waxed paper between layers.
Prep Time: 2 hours
Cook Time: 30 minutes
Container: Cookie sheets


Ingredients
-
1/2 cup finely chopped maraschino cherries
-
8 ounces almond bark - divided
-
2 1/2 cups flour
-
1/2 cup sugar
-
1 cup butter - cold
-
1 teaspoon almond extract
-
4 drops red food coloring
-
1 teaspoon shortening
-
red-colored decorating sugar