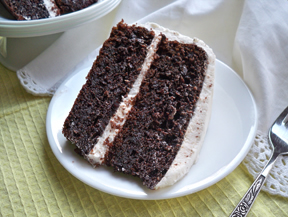 Directions
CAKE:
Grease the bottom and sides of the cake pans. Preheat oven to 350 degrees F.
Add all the ingredients, except for the chocolate chips, in a large mixing bowl. Beat just until the mixture is well mixed and batter is smooth.
Stir in chocolate chips. Mix thoroughly.
Pour batter into the prepared cake pans. Bake as indicated on the cake mix package, adding 5 to 10 minutes to the time (approximately 40 minutes total). Watch the cake carefully for doneness. Check doneness by poking with a toothpick in the center of the cake. Toothpick should come out clean.
When the cake is done, remove it from the oven and allow to cool for 10 minutes. Then remove from the pans and place on a cooling rack to cool completely.
Be sure the cake is cooled before frosting.
FROSTING:
Beat Crisco with an electric mixer until fluffy.
Add the sugar and beat until well blended.
Add the remaining ingredients and beat on medium to high speed until fluffy.
Place the first layer of the cooled cake on a cake plate and spread with a layer of frosting.
Add the second layer and use the remaining frosting to cover the top and sides of the cake. Spread evenly.
If desired add a decorative pattern to the frosting.
Prep Time: 45 minutes
Cook Time: 40 minutes
Container: Two 8-inch or 9-inch round cake pans
Servings: 12


Ingredients
-
CAKE:
-
1 package devil's food cake mix
-
1 package instant chocolate pudding
-
1 cup vegetable oil
-
1 cup sour cream
-
1/2 cup milk
-
4 eggs
-
1 teaspoon vanilla
-
2 cups mini chocolate chips
-
FROSTING:
-
1 cup shortening
-
4 cups powdered sugar
-
1 teaspoon vanilla
-
1/4 teaspoon salt
-
1/3 cup heavy whipping cream