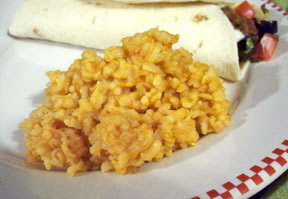 Directions
Add the tomato sauce, onion salt, cumin, and water to a saucepan and heat to a boil.
Once the water and other ingredients begin to boil, add the butter and rice; reduce heat so mixture is at a slow simmer.
Cover the rice and allow to cook for 20 to 25 minutes. Check rice for tenderness.
Remove from heat and let the rice stand for 5 minutes. Fluff with a fork and serve.
Prep Time: 5 minutes
Cook Time: 25 minutes
Servings: 4


Ingredients
-
1/2 cup tomato sauce
-
1/2 teaspoon onion salt
-
1/4 teaspoon cumin
-
2 cups water
-
1 tablespoon butter
-
1 cup instant brown rice