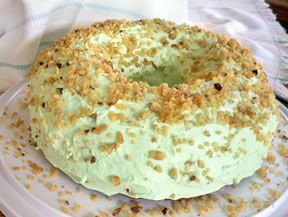 Directions
CAKE:
Grease and flour the bottom and sides of a Bundt pan. Preheat oven to 350 degrees F.
Place all the cake ingredients, except for the walnuts, in a large mixing bowl and beat on low for 30 seconds.
Beat on medium speed for an additional 2 minutes and then stir in the chopped walnuts.
Pour into the prepared Bundt pan. Place in the preheated oven and bake for 40 to 45 minutes or when a toothpick poked in the center of the cake comes out clean.
Allow the cake to cool in the pan for 10 minutes before removing and cooling completely on a cooling rack.
FROSTING:
Add all the frosting ingredients, except for the chopped walnuts, in a medium mixing bowl and beat until the frosting forms stiff peaks.
Spread the frosting on the cake and then sprinkle with the chopped walnuts.
Store in the refrigerator.
Prep Time: 15 minutes
Cook Time: 45 minutes
Container: Bundt cake pan


Ingredients
-
CAKE:
-
1 package yellow cake mix
-
1 package instant pistachio pudding mix - small package
-
4 large eggs
-
1 cup club soda
-
1/2 cup vegetable oil
-
1/2 cup chopped walnuts
-
FROSTING:
-
1 package instant pistachio pudding mix - small package
-
1 cup heavy whipping cream
-
3/4 cup milk
-
2 teaspoons powdered sugar
-
1/2 cup chopped walnuts