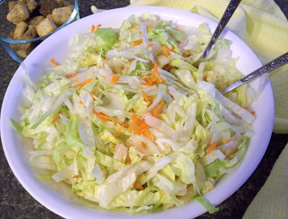 Directions
Tear or chop lettuce into bite size pieces. Place in a large serving bowl.
If desired, shred a carrot and toss with the lettuce to mix in.
Add any other of your favorite toppings that you may have on hand. Some common toppings are tomatoes, cucumbers, onions, radishes, broccoli, cauliflower, cheese, bacon bits, and croutons.
Serve lettuce salad and allow everyone to top it with their favorite dressing.
Prep Time: 15 minutes


Ingredients
-
Lettuce, torn or cut into bite size pieces
-
1 carrot, shredded
-
Salad dressing of choice