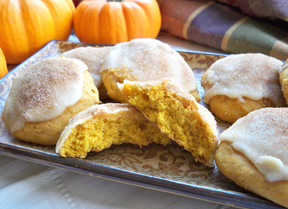 Directions
COOKIES:
Beat the butter on medium-high until smooth.
Add the sugar, baking soda, baking powder, salt, nutmeg, and cinnamon; beat until well blended.
Add the eggs and vanilla; beat until blended. Beat in the pumpkin.
Add the flour 1 cup at a time. Beat until flour is all mixed in.
Preheat oven to 350 degrees F.
Drop dough by tablespoons onto cookie sheets (ungreased) about 2 inches apart.
Bake for 10 to 12 minutes or until edges of cookies just slightly browned. Remove and cool on a wire rack.
GLAZE:
In a small saucepan, heat the butter and brown sugar together until sugar has melted and mixture is smooth.
Pour the butter and sugar mixture into a mixing bowl and stir in the milk and vanilla until blended.
Add the powdered sugar and beat with a mixer until mixture is smooth.
When the cookies have completely cooled, spread the glaze on the center of the cookies. The glaze should be thin enough where it will run slightly down to the edges of the cookies. You will have some that runs off a little so be sure to place them somewhere that the glaze will be easy to wipe up. A kitchen counter usually works well.
Mix the sugar and cinnamon together and sprinkle lightly over the glaze.
Note: you may want to sprinkle the cinnamon sugar as you go so it will stick better to the glaze. If you glaze about a dozen cookies at a time and then sprinkle them the glaze will not have set up yet and the cinnamon sugar will stick.
Prep Time: 45 minutes
Cook Time: 1 hour


Ingredients
-
COOKIES:
-
2 cups butter or margarine - softened
-
2 cups sugar
-
2 teaspoons baking soda
-
2 teaspoons baking powder
-
1 teaspoon salt
-
1 teaspoon nutmeg
-
1 teaspoon cinnamon
-
2 eggs
-
2 teaspoons vanilla
-
1 can pumpkin - 15 oz. can
-
4 cups flour
-
GLAZE:
-
1/2 cup butter or margarine
-
1/2 cup brown sugar
-
1/4 cup milk
-
1 teaspoon vanilla
-
2 3/4 cups powdered sugar
-
2 tablespoons sugar
-
1 teaspoon cinnamon