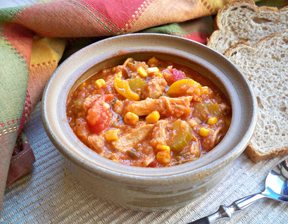 Directions
Remove meat from the rotisserie chicken and shred. Refrigerate until ready to add to gumbo.
Simmer sausage, celery, and garlic until sausage is cooked celery begins to soften.
Add the rest of the broth, tomato juice, diced tomatoes, Rotel (diced tomatoes & green chilies), canned corn, onions, and peppers.
Simmer until onions and peppers are tender.
Add the shredded chicken and rice; simmer until rice is cooked.
Once the rice is done, add the creole seasoning, sugar, salt, and pepper. Stir and allow to simmer for a few minutes.
Serve with crackers or you favorite bread.
Prep Time: 45 minutes
Cook Time: 45 minutes


Ingredients
-
1 standard size cooked rotisserie chicken
-
1 pound sausage links or ground (pork or turkey sausage can be used)
-
4 stalks celery - chopped
-
2 tablespoons minced garlic - fresh or jarred
-
20 ounces beef or chicken broth
-
1 can tomato juice - 46 oz.
-
1 can diced tomatoes - 16 oz.
-
1 can Rotel - diced tomatoes & green chilies
-
1 can sweet corn
-
1 onion - medium
-
1 pepper - yellow or green (or half of each)
-
1 1/2 cups rice
-
2 - 3 tbsp. creole seasoning (depending on desired taste)
-
2 tablespoons sugar
-
Salt and pepper to taste