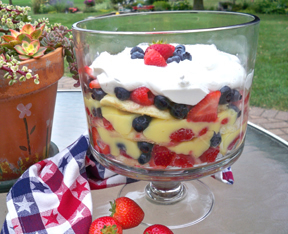 Directions
Go through the berries discard any with blemishes and hull the strawberries. Slice the strawberries. Toss all the berries together with the lemon juice and 1/4 cup of sugar. Allow the berries to sit for 30 minutes.
Mix the pudding according to the instructions on the package and then refrigerate until chilled.
After the berries have sat for 30 minutes and pudding has chilled, prepare the whipped cream. Whip the cream, sugar, and vanilla together until the cream forms soft peaks.
.
Begin layering the trifle with a layer of ladyfingers on the bottom of the trifle bowl. Add 1/3 of the berries and juice on top of the ladyfingers.
Add 1/2 of the pudding on top of the berries.
Add another layer of ladyfingers, 1/3 of the berries, and remaining half of pudding.
Add another layer of ladyfingers and the remaining berries.
Add the whipped cream on top of the 3rd layer of berries as the last layer.
Top with a few extra berries for garnish.
Keep refrigerated.
Note: Instead of ladyfingers, this trifle could be made using angel food cake. Make or purchase an angel food cake and brake into small pieces. Use the pieces in place of the ladyfingers when layering the trifle.
Prep Time: 1.5 hours
Container: Trifle bowl
Servings: 8


Ingredients
-
4 cups berries (fresh strawberries, raspberries, and blueberries)
-
1 package instant vanilla pudding - 3.4 oz.
-
2 teaspoons lemon juice
-
1/4 cup sugar
-
1 cup whipping cream
-
2 tablespoons sugar
-
1 teaspoon vanilla
-
24 to 30 ladyfingers