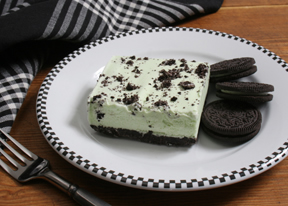 Directions
Remove the ice cream from the freezer. Take it out of the packaging and put in a large bowl; let it set out at room temperature.
Place 28 of the Oreos in the bottom of the pan and smash by pressing with the bottom of a glass. Keep smashing the Oreos until they are fairly fine crumbs.
Add the melted margarine and stir into the Oreo crumbs until they are evenly coated; then firmly press into the bottom of the pan, covering the bottom evenly.
Take the last Oreo and place in a small bowl. Smash and set aside to sprinkle on top of dessert when it is finished.
When the ice cream is soft enough to begin stirring, add the Creme De Menthe. Stir in as quickly as possible so that the ice cream does not get too melted. It should still be fairly thick when you get done stirring in the Creme De Menthe.
Pour the ice cream mixture over the Oreo crust and spread out evenly. Sprinkle reserved Oreo crumbs over the top; cover and place in the freezer as quickly as possible.
Leave in the freezer until frozen solid.
When ready to serve, allow it to set out at room temperature for about 2 or 3 minutes before cutting. Cut into squares and serve.
Store leftovers in the freezer.
Cook Time: 40 minutes
Container: 9 x 13 pan
Servings: 15


Ingredients
-
1/2 gallon vanilla ice cream
-
29 Oreo® cookies
-
5 tablespoons margarine
-
3 tablespoons creme de menthe