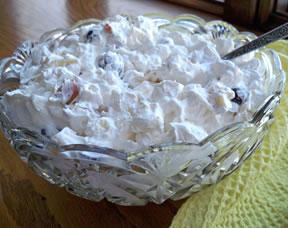 Directions
Slice grapes in half and put in a medium bowl.
Core the apples and cut into triangles; add to the grapes.
Slice bananas and add to the bowl.
Add the whipped topping and stir gently to coat everything evenly.
Add the marshmallows and fold into the mixture.
Refrigerate until ready to serve.
Note: If very young kids will be eating this salad you may want to peel the apples. Otherwise the apple peel adds nice color.
Cook Time: 20 minutes
Container: Medium bowl


Ingredients
-
2 cups grapes - cut in half
-
1 apple - cut into triangles
-
2 bananas - sliced
-
2 cups miniature marshmallows
-
8 ounces whipped topping