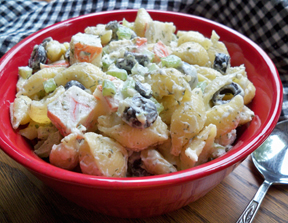 Directions
Prepare the pasta according to directions on the package; drain and rinse with cold water.
Dice the crab meat into bite size pieces; then dice the celery into small pieces. Drain the juice off the olives.
Combine the pasta and all other ingredients together in a large bowl; stir in the 3/4 cup of mayonnaise.
Stir until all ingredients are evenly coated with the mayonnaise. If salad seems a little dry, add 1 or 2 more tablespoons of mayonnaise.
Place in the refrigerator and allow to chill before serving.
Prep Time: 15 minutes
Cook Time: 10 minutes
Servings: 6


Ingredients
-
12 ounces small shell pasta
-
8 ounces imitation crab meat
-
1 stalk celery
-
1 can sliced black olives
-
1 teaspoon dried onion flakes
-
1 teaspoon tarragon
-
1 teaspoon dill weed
-
1/2 teaspoon salt
-
1/8 teaspoon pepper
-
3/4 cup mayonnaise plus 1 or 2 more tablespoons if needed