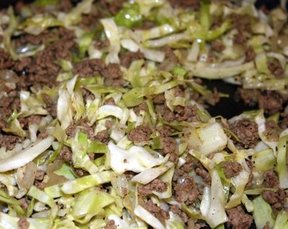 Directions
In a large pot, put in 2 tbsp olive oil.
Add ground beef and brown on med-high heat.
Add onion and all seasonings.
Add chicken stock and brown rice.
Reduce heat to simmer and cover.
Cook 7-10 mins or until liquid is absorbed.
While rice is cooking, add 2 tbsp oil to large skillet on med-high heat.
Add shredded cabbage and toss to evenly coat cabbage in oil.
Cook cabbage for 7-10 mins or until done.
After rice is completed, add cabbage, chopped cilantro and stir to mix all ingredients together. Add hot sauce to taste and serve.
Servings: 6


Ingredients
-
1 pound ground beef 80/20
-
4 tablespoons olive oil
-
1 red onion - chopped
-
1/2 head cabbage - shredded
-
2 cups brown rice
-
2 cups chicken stock
-
2 tablespoons Cajun Seasoning
-
1 tablespoon cumin
-
1 teaspoon basil
-
1 teaspoon oregano
-
1 tablespoon fresh cracked pepper
-
1 teaspoon salt
-
1/2 bunch fresh cilantro - chopped
-
Hot Sauce to taste