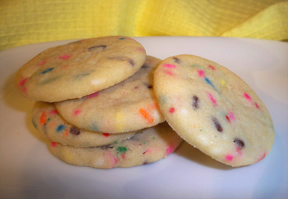 Directions
Preheat oven to 350° F.
Combine the flour, soda, and salt in a small bowl and whisk to mix evenly; set aside.
In a large mixing bowl blend the butter and sugar together until fluffy.
Add the egg and vanilla; mix until evenly distributed.
Add the flour mixture to the batter and beat until well blended; add milk and beat to blend in.
Add the sprinkles and mix just until they are evenly distributed.
Scoop approximately a 1-inch ball of dough and drop on a cookie sheet. Place cookies about 2 inches apart. Flatten the cookies with the bottom of a glass that has been dunked in sugar.
Bake for approximately 7 to 8 minutes or until the edges are lightly browned. Remove and place on a rack to cool.
Prep Time: 25 minutes
Cook Time: 35 minutes


Ingredients
-
2 1/2 cups flour
-
1/2 teaspoon baking soda
-
1/2 teaspoon salt
-
1 cup butter
-
1 cup sugar - plus some for preparing cookies to bake
-
1 egg
-
1 teaspoon vanilla
-
2 tablespoons milk
-
1/2 cup colored sprinkles