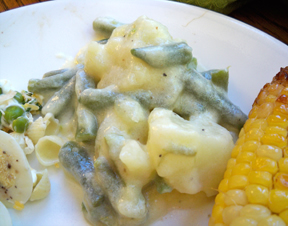 Directions
Peel potatoes and cut into large cubes. Boil until tender when poked with a fork. Do not overcook.
Trim beans into 1 to 1 1/2-inch lengths. Cook until just tender but still having a little bite to them.
While the potatoes and beans are cooking, make up the sauce. Add the butter and flour to a small sauce pan and heat until butter is melted and flour is stirred in.
Add the milk, stirring constantly as it is added. Mixture may seem lumpy but as you keep stirring and cooking it the flour and butter will blend with the milk.
Add the chicken bouillon, salt and pepper. Continue to cook until sauce thickens and begins to boil. Once it has boiled, turn heat down.
Once the sauce has thicken to desired consistency, mix the sauce, beans, and potatoes altogether in one pan. Heat thoroughly and serve.
Cook Time: 1 hour
Servings: 8


Ingredients
-
6 potatoes - medium
-
1 pound fresh green beans - ends snapped off
-
3 tablespoons butter
-
3 tablespoons flour
-
2 cups milk
-
3 teaspoons chicken bouillon - granuales
-
1 teaspoon salt
-
1/2 teaspoon pepper