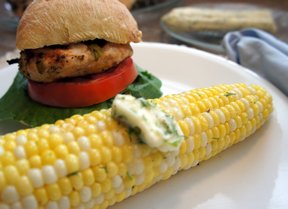 Directions
In a small bowl combine softened butter, cilantro and seasonings. Stir until combined. Place into a small zipper bag and push to bottom of bag. Roll to form a log. Place in refrigerator until firm.

Bring water to a boil on stovetop, season with sugar and salt if desired. Place corn in boiling water and boil for 8-10 minutes.

Serve boiled corn with prepared butter.
Prep Time: 10 minutes
Cook Time: 10 minutes


Ingredients
-
12 each sweet corn ears, husked
-
1 stick unsalted butter, softened
-
1 tablespoon cilantro, chopped
-
1/2 teaspoon salt
-
1/4 teaspoon black pepper