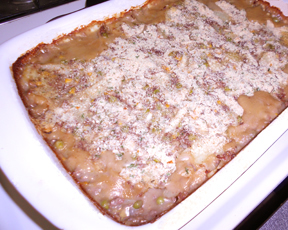 Directions
Preheat oven to 350 degrees F.
Brown hamburger; drain grease and pour meat into a 9 x 13 baking dish.
Peel and slice the potatoes; place in the baking dish with the hamburger.
Add the peas, soup, corn, and onion to the meat and potatoes.
Stir mixture until evenly mixed.
Sprinkle top with breadcrumbs.
Place in preheated oven and bake for 1 hour or until potatoes are done.
Note: If using French fried onions rather than breadcrumbs, wait to add them at the end of cooking time. When potatoes are done add the French fried onions on top and then bake for an additional 5 or 10 minutes, just until they are browned.
Prep Time: 20 minutes
Cook Time: 1 hour


Ingredients
-
2 pounds hamburger
-
6 potatoes - medium
-
1 1/2 cups frozen peas
-
2 cans cream of mushroom soup
-
1 can cream -style corn
-
1 onion - small, chopped
-
1 cup Italian breadcrumbs or 2 cups of French fried onions