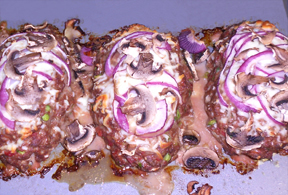 Directions
Mix all ingredients together except for the red onion and cheese. Use hands to mix evenly.
Divide into 4 sections. Form into individual loaves on a baking sheet with sides.
Place sliced red onions on top of each loaf and sprinkle with cheese.
Bake in a preheated 350 degrees oven for 1 to 1 1/2 hours.
Using a spatula, lift each loaf from the baking sheet and place on plates to serve.
Prep Time: 30 minutes
Cook Time: 1.5 hours
Servings: 4


Ingredients
-
2 pounds ground beef
-
1 1/2 cups Italian breadcrumbs
-
2 eggs
-
1/2 cup ketchup
-
1 small onion , chopped
-
1 medium green pepper, chopped
-
8 ounces mushrooms , sliced
-
1 tablespoon garlic salt
-
1 tablespoon Greek seasoning
-
1 tablespoon curry powder
-
1 tablespoon beef boulin granules
-
1 teaspoon ground ginger
-
1 teaspoon pepper
-
1/2 red onion , sliced into rings
-
1 cup shredded mozzarella cheese