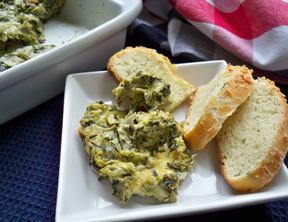 Directions
Drain the asparagus and artichokes. Chop if they aren't already chopped.
Drain spinach thoroughly. Squeeze over the sink in a paper towel to remove excess moisture.
Add these three ingredients together in a bowl.
Mix the cream cheese spread, mayonnaise, and 1 1/4 cups of the Parmesan cheese together and then add to the vegetables. Stir to mix well.
Place in the baking dish and sprinkle with the remaining 1/4 cup of Parmesan cheese.
Preheat oven to 375° F. Bake dip for 30 to 35 minutes or until bubbly and slightly browned on top.
Serve warm with French bread, dark rye bread, baguettes, beer bread, bagels pieces, crackers or tortilla chips.
Prep Time: 20 minutes
Cook Time: 35 minutes
Container: 2 quart baking dish
Servings: 24


Ingredients
-
1 can chopped asparagus spears, 19 oz. can
-
1 can quartered artichoke hearts, 8.5 oz. can
-
1 package frozen chopped spinach, 10 oz. pkg. - thawed
-
8 ounces chive and onion flavored cream cheese spread
-
1/2 cup mayonnaise
-
1 1/2 cups shredded Parmesan cheese- divided