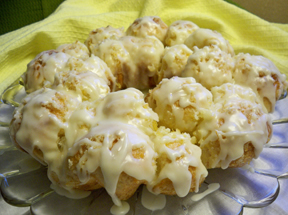 Directions
Remove rolls from the freezer and place on a plate and let them thaw just until soft enough to cut with a scissor. (Should be thawed but still cold.)
Grease the bottom and sides of your baking pan.
Mix the lemon zest and sugar together; set aside.
When rolls are thawed enough to cut, use a scissor and cut in half. Place the halved rolls in the bottom of the greased pan. Distribute the pieces evenly throughout the pan.
Drizzle the melted butter over the rolls, making sure they all get coated. You will end up with most of the butter in the bottom of the pan.
Sprinkle the rolls with 1/2 of the lemon zest and sugar mixture. Set the remaining aside.
Cover with plastic and let rise to double in size.
Once it has risen properly, remove the plastic and sprinkle with the remaining lemon zest and sugar mixture.
Preheat oven to 350 degrees and bake the pull-aparts for approximately 25 minutes.
When done, carefully remove them from the pan and place on a cooling rack.
Mix up the glaze and drizzle over the pull-aparts while they are still warm.
They can be served warm or you can allow them to cool first.
Prep Time: 15 minutes
Cook Time: 25 minutes
Container: bundt pan, deep-dish pizza pan, or 9 x 13 baking pan
Servings: 6


Ingredients
-
12 frozen dinner rolls
-
Zest from 2 lemons
-
1/2 cup sugar
-
1/4 cup butter or margarine - melted
-
GLAZE:
-
1 cup powdered sugar
-
2 tablespoons fresh lemon juice
-
1 tablespoon butter or margarine - melted