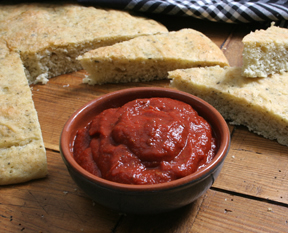 Directions
Mix tomato paste, oregano, onion powder, garlic salt, and Fruit Fresh.
Add water a little at a time until the sauce is the desired consistency. You may require a little less or more water than the 1/2 cup.
Heat mixture to a boil and then simmer for several minutes.
Serve as desired.
Prep Time: 10 minutes
Cook Time: 5 minutes


Ingredients
-
8 ounces tomato paste
-
1 teaspoon oregano
-
1 teaspoon onion powder
-
1 teaspoon garlic salt
-
1 teaspoon Fruit Fresh
-
1/2 cup water