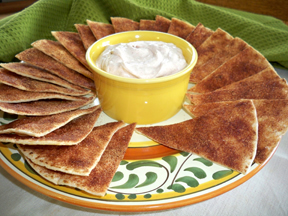 Directions
Preheat oven to 400 degrees F.
Melt butter and brush on the front and back of each tortilla.
Combine the sugar and cinnamon; stir to mix thoroughly. Sprinkle the sugar and cinnamon on top of all the tortillas.
Cut each tortilla into 8 wedges to create the chips. Place the chips on a baking sheet. Bake for 8 to 10 minutes or until crisp.
While the wedges are baking, combine the dip ingredients together and beat until smooth.
Serve chips and dip together.
Prep Time: 20 minutes
Cook Time: 10 minutes
Servings: 12
Serving Size: 3 pieces


Ingredients
-
CHIPS:
-
6 tortillas - 8
-
3 tablespoons butter or margarine - melted
-
3 tablespoons sugar
-
2 teaspoons cinnamon
-
DIP:
-
4 ounces cream cheese
-
6 ounces vanilla yogurt
-
4 1/2 teaspoons sugar
-
1/2 teaspoon cinnamon