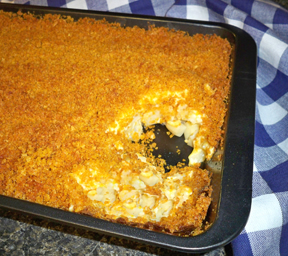 Directions
Combine the cream of chicken soup, salt, sour cream, butter, and cheese together; stir until well mixed.
Pour frozen hash browns into the baking dish and spoon the soup and cheese mixture over the hash browns.
Spread the mixture evenly over the hash browns and then press it down into the hash browns the best you can without stirring. Smooth out the top when done.
Mix the corn flake crumbs with the melted butter and then spread out evenly over the hash brown mixture.
Bake for 1 hour at 350 degrees F.
Note: This hash brown casserole can be all made up a day ahead of time and refrigerated or it can be frozen for longer storage.
Prep Time: 30 minutes
Cook Time: 1 minute
Container: 9 x 13 baking dish
Servings: 12


Ingredients
-
1 can cream of chicken soup
-
1 teaspoon salt
-
12 ounces sour cream
-
1/2 cup butter or margarine - melted
-
2 cups shredded cheddar cheese
-
1 package frozen hash browns - 2 lb. bag
-
TOPPING:
-
2 cups corn flake crumbs - finely crushed
-
1/4 cup butter or margarine - melted