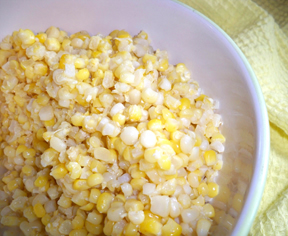 Directions
Husk and clean sweet corn, removing as much silk as possible.
Prepare a large bowl of ice water and set up a workspace where the water, sugar and salt are located. Also, allow enough space for a large bowl for mixing the corn and an area where you can fill freezer containers or bags.
Slice the corn kernels from the cob into a thoroughly cleaned sink.
Combine 15 cups of corn with 5 cups of ice water, 1/2 cup of sugar, and 2 tablespoons of salt.
Stir mixture together and the scoop into freezer containers or bags. You can fill pint, quart or gallon size containers. Use whatever you feel is appropriate for your use. Divide liquid evenly between the containers. The liquid is used when you cook the corn before serving.
Seal the containers or bags tightly. Be sure to leave room for expansion when the corn freezes.
Place the corn in the freezer as soon as possible.
TO SERVE: When you are going to serve the frozen corn, place the entire contents in a pan and boil until cooked thoroughly. You will know when it is done by its flavor. If it is done it will have the sweet flavor of sweet corn. If it isn't it will have a raw corn flavor, which means you just need to cook it longer. It can also be cooked in the microwave. Just place frozen corn in a covered microwave-safe dish and make sure there is plenty of room in the dish for when the corn boils. Cook on high for 5 minutes; take out and break up frozen pieces. Return to microwave and cook for 10 minutes; remove and stir. Microwave for 5 more minutes; drain juices and serve.
Note: If you use freezer bags be sure to place them in the freezer standing up so the juices don't leak out. Once they are frozen you can lay them down to store.
Container: Freezer-safe containers or bags


Ingredients
-
15 cups Fresh sweet corn cut off the cob - per batch
-
5 cups ice water
-
1/2 cup sugar - per batch
-
2 tablespoons salt - per batch