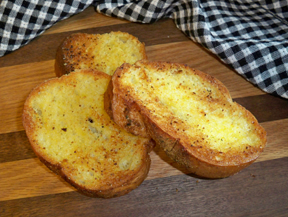 Directions
Slice the bread into 1/2 to 3/4 inch thick slices.
Butter each side generously with the softened butter.
Lay buttered slices on a baking sheet and sprinkle the tops lightly with garlic salt.
Place under the broiler in your oven until lightly toasted on top.
Turn the slices over once the tops are toasted and toast the bottom side.
Remove from the baking sheet when they are toasted on both sides.
Serve and enjoy!
Note: As you are toasting the bread, the slices will not toast evenly so watch closely and take the baking sheet out and turn the slices as they get done on one side. Remove them from the pan as they get toasted on both sides. They toast pretty quickly under the broiler once they get started so be sure to watch them closely so they do not burn.
Ingredients
-
1 pound French bread - plain or seasoned
-
8 tablespoons to 12 tablespoons of butter or margarine, softened (use more if needed)
-
Garlic salt