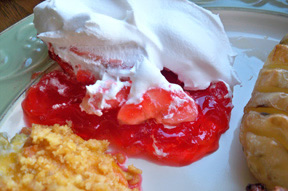 Directions
In a serving bowl, prepare the jell-o according to the package directions.
Add sliced bananas so that they are spread out evenly on the top.
Put the bowl of jell-o and bananas in the refrigerator until the jell-o is firmly set.
When firm, remove from the refrigerator and spread the whipping topping over the top. Spread an even layer on the jell-o about three quarters of an inch thick, or desired thickness.
Serve immediately or store in the refrigerator until you are ready to serve it.
Prep Time: 15 minutes
Servings: 6


Ingredients
-
1 package jell-o, small package, any flavor
-
1 to 2 bananas, according to your taste
-
8 ounces whipped topping (you may not use the full container)