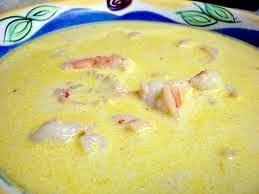 Directions
Melt butter in large stockpot over medium heat. Add corn, onions, celery, bell pepper, garlic, and diced tomatoes. Saute' until vegetables are wilted.
Add shrimp, thyme, basil, bay leaves, and broth. Simmer uncovered for about 8 minutes.
In a separate pan, add flour to some of the above liquid, heat and stir to make a white roux, do not brown. Gradually add milk and half and half, stir, do not boil. Return to pot.
Season to taste with salt, black pepper, cayenne, and pepper sauce. Add parsley and green onions. Simmer uncovered for about 30 minutes.
Servings: 8


Ingredients
-
4 tablespoons butter
-
1 16 oz pkg frozen sweet corn
-
1 med onion, chopped
-
2 ribs celery, chopped
-
2/3 cup bell pepper, chopped
-
2 cloves garlic - minced
-
2 Roma tomatoes, diced
-
16 ounces shrimp - peeled, no tails, cut if lg
-
1/2 teaspoon thyme - dry
-
1/2 teaspoon basil - dry
-
2 bay leaves
-
2 cans (14.5 oz) chicken broth
-
1/2 cup flour
-
1 pt milk
-
1 pt half and half
-
1 1/2 teaspoons salt
-
1/4 teaspoon fresh ground pepper
-
1/4 teaspoon cayenne
-
2 dashes hot pepper sauce
-
1/2 cup fresh parsley - chopped
-
1 cup green onion - chopped