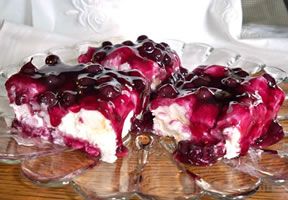 Directions
Beat the cream cheese and sugar together until smooth.
Cut the angel food cake into 1-inch cubes; fold the cubes and whipped topping into the cream cheese mixture.
Pour this mixture into a 13x9x2-inch dish and spread out evenly.
Pour the blueberry pie filling over the top and spread out evenly.
Cover with plastic or foil; Chill in the refrigerator for at least 2 hours before serving.
Prep Time: 45 minutes
Container: 13 x 9 x 2 dish
Servings: 12


Ingredients
-
8 ounces cream cheese - softened
-
1 cup powdered sugar
-
1 prepared angel food cake
-
8 ounces whipped topping
-
2 cans blueberry pie filling