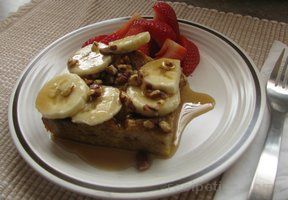 Directions
Spray a 9x13 baking dish with cooking spray. Press bread into dish, fitting as many slices as possible without layering.
In a large bowl, whisk together eggs, milk, vanilla, cinnamon, sugar, salt and rum extract.
Pour over bread; cover and refrigerate at least 8 hours.
Preheat oven to 350 degrees F. Remove bread from refrigerator and allow to become room temperature.
Bake, uncovered, for 40-45 minutes or until puffed and golden brown.
While bread is baking, melt butter in a large skillet over medium low heat. Add brown sugar, vanilla, cinnamon and rum extract. Heat until sugar has dissolved and simmer 2 more minutes.
Remove from heat and stir in bananas. Cover until bread is finished baking.
Cut bread into pieces and top with bananas mixture.
Prep Time: 15 minutes
Cook Time: 45 minutes
Servings: 8


Ingredients
-
1 loaf Brioche - sliced 1 inch thick
-
4 large eggs
-
1 1/2 cups milk
-
1 1/2 teaspoons vanilla
-
1 teaspoon ground cinnamon
-
1/4 cup sugar
-
1/4 teaspoon salt
-
1 teaspoon rum extract
-
TOPPING:
-
4 tablespoons butter
-
1/2 cup brown sugar
-
1 teaspoon vanilla
-
1 teaspoon cinnamon
-
1 tablespoon rum extract
-
6 bananas - sliced