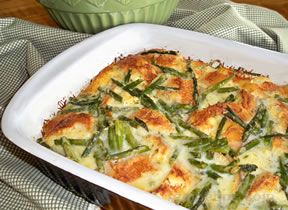 Directions
Preheat the oven to 350 degrees F. Grease a large casserole dish.
Cut the French bread into 1 1/2 inch slices and lay out on a large baking sheet. Place in the oven for about 10 minutes to dry out the bread. It should be dry to the touch but not browned.
Cook the asparagus just until crisp tender - do not overcook. Rinse in cold water to stop cooking.
Whisk the eggs, half & half, salt, pepper, tarragon, and chives together in a large bowl.
Place the French bread slices on the bottom of the greased casserole dish.
Spread the asparagus evenly over the bread slices and sprinkle the cheese over the top.
Pour the egg and half & half mixture over the top of the bread, asparagus, and cheese.
Push bread slices down to submerge them in the mixture if they aren't covered by it.
Allow the dish to set for about half an hour so the bread will soak up the mixture. This dish can also be made the night before serving. Cover the casserole dish and refrigerate it overnight.
Bake for 40 to 45 minutes in the pre-heated oven. The bread pudding should be puffed up and browned. Allow it to set for 10 minutes before serving it.
Prep Time: 45 minutes
Cook Time: 1 hour
Container: 9 x 13 baking dish
Servings: 12


Ingredients
-
1 loaf French bread
-
1 bunch asparagus
-
5 eggs
-
2 1/2 cups half and half (can use whole milk)
-
2 teaspoons salt
-
Pepper to taste
-
1/2 teaspoon finely chopped fresh tarragon
-
1 tablespoon chopped chives
-
8 ounces grated cheese (Monterey Jack, Cheddar, Swiss, or any other you prefer)